Services & Repairs
2 Wheeler Repair & Services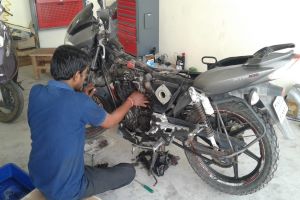 Multibrand Two Wheeler Service Center Nagapattinam
Maintaining your bike regularly helps it to perform well and ensures that you can enjoy safe and problem- free riding.
We are specialists in 2 wheeler services including Oil and filter change, Air Filter, Spark plugs, Drive chain adjustment, oiling cables, levers and pivots, Clutch adjustment, Engine speed, Brake pads, and much more.
We are a one-stop-shop for 2 wheeler servicing, repair, and break-down assistance. When you need high quality and low-cost service reach out to us and we are happy to help you with 24/7 service.
How SANDO AUTOMOBILES would help you?
SANDO AUTOMOBILES is a multi-brand 2 wheeler service workshop offering genuine spare parts, diagnostics, and repair. No matter which motorbike you own, no matter what model you have, you can be assured of the best service by us.
Our highly professional and trained mechanics use the best quality products combined with the latest techniques for all 2 wheeler repair services.
Brochure
Brochure