Services & Repairs
Wheel Alignments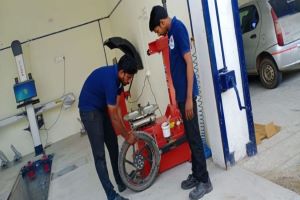 Wheel Alignment:
Wheel alignment is a part of standard automobile maintenance that consists of adjusting the angles of wheels. It can help your tires perform properly and help them last longer. It can also improve handling and keep your vehicle from pulling in one direction or vibrating strangely on the road.
It is the way to proper alignment and adjusting the angles of the tires.
How do I know if I need a tire alignment?
Vehicle pulling to the left or right

Uneven tire wear

Your steering wheel is curved when driving straight

Steering or wheel vibration
How SANDO AUTOMOBILES would help you?
Come into your SANDO AUTOMOBILES to have wheel alignment check and our experienced automotive technicians give the best service on wheel alignment services.
Brochure
Brochure