Services & Repairs
Other Services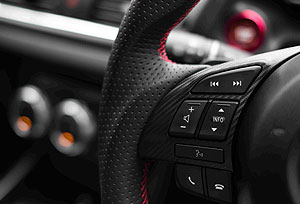 Stickering Work
Car decals- stickers are images, graphics, or lettering printed onto placed on any type of vehicle. Car decals include car & truck lettering, perforated decals, and high adhesive decals.
They are mainly used to advertise business names, logos, products, and contact information. They may also be used to show off your favorite logo, team, band, etc.
How SANDO AUTOMOBILES would help you?
SANDO AUTOMOBILES provides a vehicle stickering work. Our decals are made of high quality, and also provide a comprehensive price. We have a unique stickering library and also create new graphic design stickers for customer's innovation. Personalize your car with our unique decals-stickers.
Customized Interior work
If you feel performance is everything in a car, then the look and feel matter equally. The insides of the car can reveal a lot about your style and taste. You would also be spending a lot of time inside the car while driving or being a passenger in it.
Believe us, as every bit of your car's interior, can be customized. Be it seat, door panels, roof lining, wood finishing steering wheel, flooring or carpeting you ask us and we will get it for you.
How SANDO AUTOMOBILES would help you?
SANDO AUTOMOBILES have experts for vehicle interior customization work we will make sure you get the whole interior of your vehicle completely transformed to give it a new look.
Automobile Electrical Work
Most mechanical functions nowadays depend on electrical components. Your car is controlled by a complex network of wires, sensors, and computers working together.
If your vehicle seems to be having any electrical problems, the dedicated professionals of SANDO Automobiles are ready to hear from you.
How SANDO AUTOMOBILES would help you?
Our expert technicians can perform an electrical system check to ensure everything is work properly. It points to any problems that may occur with your electrical system.
We focus on an honest, transparent, service approach that keeps our customers behind the wheel when it comes to the health of their vehicle.
Battery Service/ Replacement work
Your car battery and electrical system are like the heart and soul of your vehicle. Take care of them and they will make sure your car starts every time you start the process. When your car will not start or has the rapid clicks of death you most likely need a new car battery.
When to replace a car battery?
Your car doesn't start.

Battery or charging system warning light is illuminated.

The electrical component don't work.
How SANDO AUTOMOBILES would help you?
The team of SANDO Automobiles professionals in delivering and replacing car batteries in all makes and models of automobiles.
We offer lead-acid batteries, deep cycle batteries, AGM batteries, and more. When you need your car battery replaced call our experts who deliver your replacement battery to your home or work.