Services & Repairs
Car Wash Services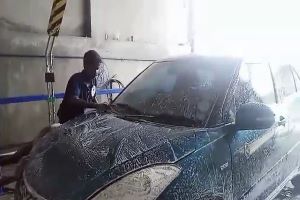 Car Water Wash & Cleaning Service Ayakkaranpulam
Your car is a major investment and you spend a ton of money maintaining it. Like oil changes, tire rotations, brake pads. But have you ever think about your car's outside appearance?
One of the best ways to wash your car is to take it to an automated car wash and then add some finishing touches at home; this saves your time and energy so that you can do other stuff that day, while also allowing you to make sure that everything was done right.
We provide automatic and manual wash, and also a normal wash, Chemical wash, washing with under chase paining. We don't just clean your car, we help you to get it to shine like it just left the showroom one.
How often should you wash your car?
Most experts recommend washing your car every two weeks or so throughout the year as a general rule. If you live in an area with a lot of salt either from a nearby ocean or from salt trucks on the winter roads you probably should wash it more, as salt can corrode the metal and cause rust.
How SANDO AUTOMOBILES would help you?
SANDO AUTOMOBILES car wash is a brand which literally going to change the way people think about car cleaning. It is a unique mechanized car cleaning concept where cars are getting pampered by the latest types of equipment including high-pressure cleaning machines, spray injection, and high powered vacuum cleaners, steam cleaners.
Our professionally trained team uses state of the art equipment and their car care expertise to ensure the safety of your vehicle.
Brochure
Brochure